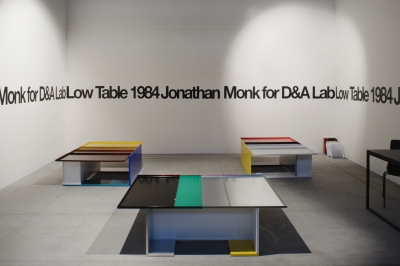 D&A Lab presented Jonathan Monk at Design Miami/ Basel 2010
Exhibit as a Design On/Site Project

Design On/Site
Design On/Site is dedicated to finger-on-the-pulse fresh and experimental design. Design On/Site will showcase small-scale yet high-level exhibitions of new work by individual designers or studios presented by emerging and established dealers. Design On/Site provides a platform for contemporary design innovation by supporting the relationships between patrons and creatives that drive the production of limited-edition design.
Each Design On/Site project represents a highly curated, 30-square-meter exhibition of new work from a single designer or studio. These focused exhibitions will provide an impactful snapshot of the designer's vision, situating the new work within the larger contexts of the designer's overall career and within contemporary design culture. The designer should oversee the planning of the space and should be brought to the fair to participate in build-out and enjoy the events during the week of the show.
The Design/ Onsite exhibitions will give nonconformist benefactors of design the opportunity to present exceptional installations to high-profile collectors, curators, journalists and design enthusiasts. This platform provides a chance for dealers to participate in one of the most important forums for design collecting, while focusing attention on their most current ventures.
When selecting proposals for Design On/Site, Design Miami/ considers the following factors:
• Proposals must focus exclusively on the work of one designer or studio who has been actively practicing for a minimum of two years.
• Preference is given to new work that will be launched at Design Miami/. A significant portion of the design work proposed must have been produced in the past year by the applying dealer. If the work has been previously shown, the former venue must be stated.
• Eligibility for admission as an exhibitor is restricted exclusively to galleries and licensed design dealers.
• The gallery's relationship with the designer will be considered, including the duration of the collaboration and previous work that has been produced.
• The gallery's application must convey a well-considered exhibition proposal for presentation at the fair. If the gallery exhibits at additional fairs, these exhibitions will be taken into consideration, as well as the exhibitions that take place within the home gallery space.
• The proposal submitted must contain a detailed description of the planned exhibition and images or sketches of specific works to be presented at the fair.
• All applicants must submit a completed application before the selection process, and in doing so, agree to comply with Design Miami/ Terms & Conditions.